XIVème édition 17-18-19-20 AOÛT 2023 
Pour l'édition 2023, le Motocultor passe à 110 groupes sur 4 scènes par jour !
N'hésitez pas à me contacter pour toute demande de partenariat, d'accréditation ou d'interview.
LES NOUVEAUX NOMS 
JEUDI : 
A.A WILLIAMS, 
ANGELUS APATRIDA, 
BURNING WITCHES, 
HATEBREED, 
ROYAL REPUBLIC, 
UGLY KID JOE, WARBRINGER, WOLFMOTHER
VENDREDI : 
ARKA'N ASRAFOKOR, 
ESTHESIS, NAPALM DEATH, VIO-LENCE, BOISSON DIVINE, 
 LUC ARBOGAST, UUHAI, HAKEN, HEALTH
SAMEDI : BULLET FOR MY VALENTINE, SYLVAINE, 
PÉNITENCE ONIRIQUE, 
BRUTAL SPHINCTER, THE TOY DOLLS
DIMANCHE : ORPHEUM BLACK, CAVE IN, SOEN, NOSTROMO, DIETH, KABBALAH, 
CHURCH OF MISERY, CROWBAR, EYEHATEGOD, ELDER, HEART ATTACK

IMPORTANT

:  Wardruna passe le Vendredi pour une unique date en France
au lieu du Dimanche
.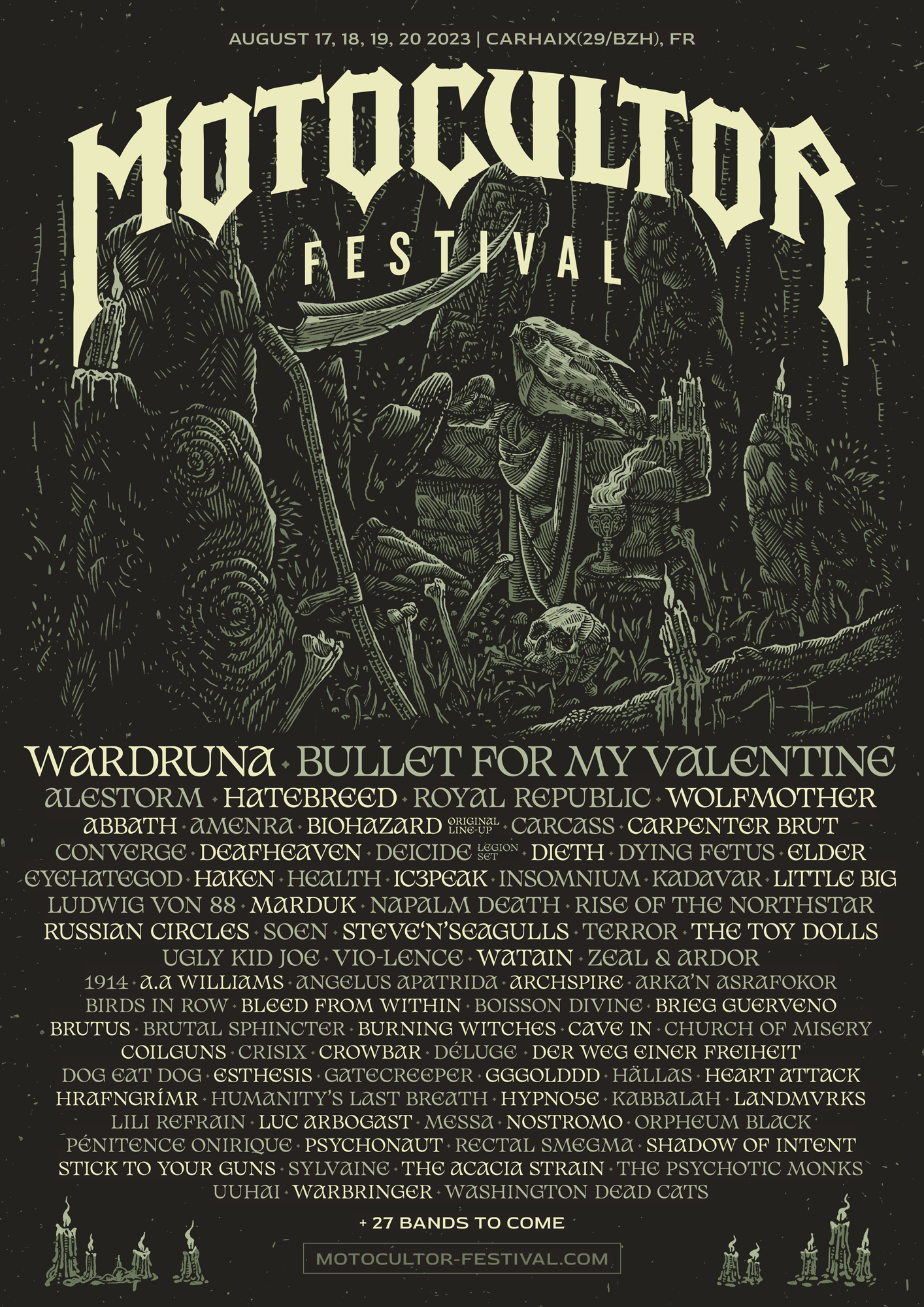 Jeudi 17 août 2023 : A.A Williams † Angelus Apatrida † Burning Witches † Deafheaven † Hällas † Hatebreed † Kadavar † Royal Republic † Steve'n'Seagulls † Ugly Kid Joe † The Psychotic Monks † Warbringer † Wolfmother † Zeal & Ardor + TBA
Vendredi 18 août 2023 : Arka'n Asrafokor † Boisson Divine † Brieg Guerveno † Carcass † Crisix † Deicide (Legion set) † Déluge † Esthesis † GGGOLDDD † Haken † Health † Hrafngrímr † Humanity's Last Breath † Hypno5e † IC3PEAK † Insomnium † Lili Refrain † Luc Arbogast † Marduk † Napalm Death † Psychonaut † Terror † Uuhai † Vio-lence † Wardruna + TBA
Samedi 19 août 2023 : Amenra † Birds in Row † Bleed From Within † Brutal Sphincter † Brutus † Bullet For My Valentine † Coilguns † Der Weg Einer Freheit † Dog Eat Dog † Gatecreeper † Little Big † Ludwig von 88 † Pénitence Onirique † Rectal Smegma † Russian Circles † Sylvaine † The Acacia Strain † The Toy Dolls † Washington Dead Cats † Watain + TBA
Dimanche 20 août 2023 : 1914 † ABBATH † Alestorm † Archspire † Biohazard (Original Line-up) † Carpenter Brut † Cave In † Church of Misery † Converge † Crowbar † Dieth † Dying Fetus † Elder † Heart Attack † Kabbalah † Landmvrks † Messa † Nostromo † Orpheum Black † Rise of the Northstar † Shadow of Intent † Soen † Stick to Your Guns  + TBA