Guitares en approche !
UNITED GUITARS sortira son nouvel opus, Vol.4, le 28 avril 2023 via Mistiroux Productions. Il s'agira d'un double-album comportant 20 titres et réunissant des guitaristes aussi divers et talentueux que Robben Ford, Jessie Lee Houllier (Jessie Lee & The Alchemists), Seb Chouard (County Jels, Les Cochons dans l'espace), Valzore (The Electric Barock Quartet) ou encore Ludovic Ergaz (rédacteur en chef de Guitare Xtreme).
CD 1
01. Plug-In
02. Stay Real
03. Lagu
04. Starry-Eyed Dreamers 
05. Blood Cell
06. Life Is a Clock
7. Timelapse 
8. Chimera
9. Kaiju Wars
10. De l'aube et du soir
CD 2
01. Grand Canyon II 
02. Don't Call the Police
03. Dance with the Butterfly
04. Duality
05. Heaven Sent Hell Away
06. Electra
07. Les contemplations d'Icare
08. King Kong Big Balls
09. Back to Life
10. Haunted
Voici le line-up du nouvel album : 
Guitares : Robben Ford, Jean-Marie Ecay, Sylvain Luc, Max Ostro, Nick Johnston, Sébastien Chouard, Ludovic Egraz, Tom Abrigan, Anouck André, Arnaud Bascuñana, Marwan Boulaïd, Nico Chona, Alex Cordo, Théo Cormier, Richard Daudé, Youri De Groote, Alexis Didier, Yvan Guillevic, Jessie Lee Houllier, Tanguy Kerleroux, Yann Negrit, NeoGeoFanatic, Mat Ninat, Romain Pilon, William Remond, Nym Rhosilir, Charly Sahona, Saturax, Régis Savigny, Niko Slash, François Tuphé, Valzore et Olivier Back. 
Basses : François C. Delacoudre, Bruno Ramos
Batteries : Stéphane Boutinaud, Davy Honnet 
Chant : Jessie Lee Houllier
Talkbox : Mat Ninat
Trompette : Sylvain Gontard
Trombone : Fabien Cyprien
Réalisation : Ludovic Egraz
Par ailleurs, deux titres ont d'ores et déjà été dévoilés : « Plug-In » et « De l'Aube et du Soir ».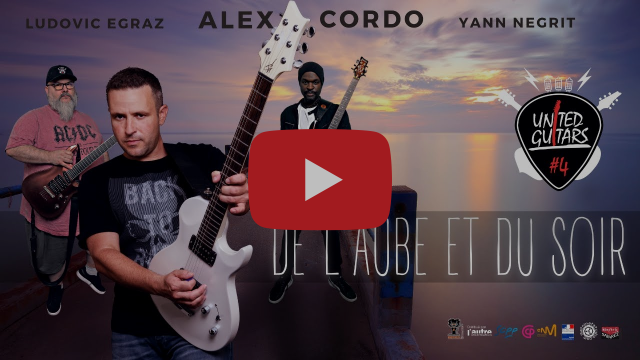 United Guitars – « De l'Aube et du Soir » (Alex Cordo / Ludovic Egraz / Yann Negrit)
https://youtu.be/UFZs23YWOT0
Réalisation : Mat Ninat Studio
Une news Agence Singularités