MICHAEL MONROE News/ Nouvel album « I LIVE TOO FAST TO DIE YOUNG « 
le 10 juin via Silver Lining 
https://lnk.to/MichaelMonroeILTFTDY
A voir au Hellfest le 25 juin
1er single « Murder The Summer Of Love »
Regardez la lyric vidéo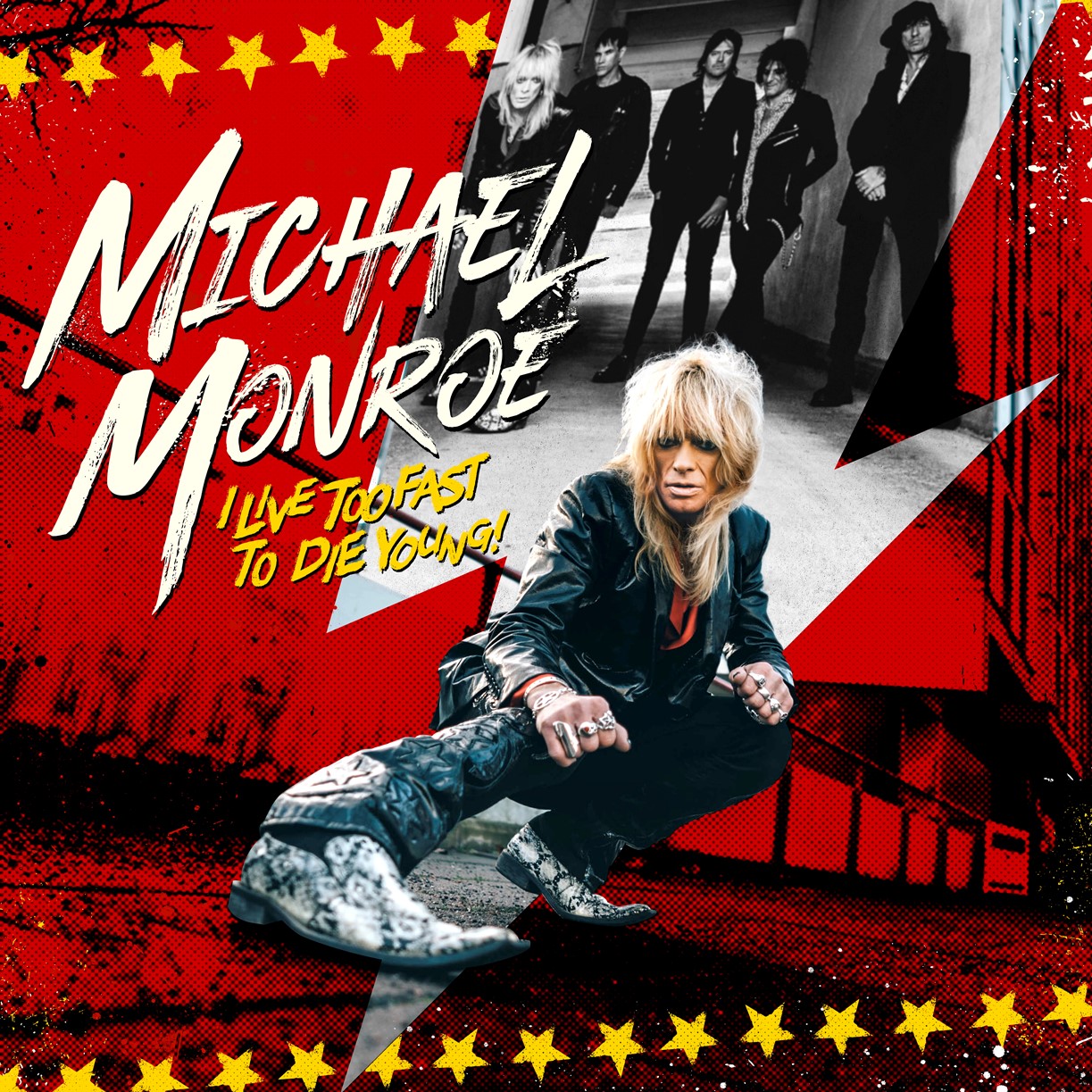 « Je vis trop vite pour mourir jeune, ce n'est rien quand on a la tête vissée », rugit le prince héritier de l'excitation, le frontman électrique Michael Monroe, sur son deuxième album pour Silver Lining Music.  I Live Too Fast To Die Young, et que cela soit un cri de victoire de la vérité. À une époque où les pandémies et les guerres sont les points d'orgue d'une société toujours plus folle, Monroe & co ont décidé de se réunir en décembre 2021 pour donner suite à l'album One Man Gang de 2019.
À une époque où il est difficile de s'amuser, I Live Too Fast To Die Young est une musique de power rock 'n' roll brute et mesurée, avec des morceaux percutants comme « Young Drunks & Old Alcoholics », « All Fighter » et le plaisir punky de « Murder The Summer Of Love » qui montrent une électricité et des mélodies vives qui s'enroulent autour de riffs tranchants comme des rasoirs. Il y a aussi des morceaux expansifs aux accents de Stones comme « Can't Stop Falling Apart » et « Everybody's Nobody », tandis que le morceau-titre vous vise entre les deux yeux avec un back-beat entraînant et un refrain provocateur qui reflète l'attitude irrépressible de Monroe.
« Cet album présente une excellente combinaison et un bon équilibre de chansons, et la collection raconte une grande histoire globale », déclare Monroe, qui est devenu internationalement célèbre en tant que leader du groupe très influent Hanoi Rocks au début des années 80, « il a beaucoup de couleur et d'énergie, et bien sûr c'est du rock 'n' roll, mais le punk sera toujours une partie de ce que nous sommes, qui ne mourra jamais ».
Enregistré aux Inkfish Studios à Helsinki, en Finlande, entre novembre et décembre 2021 et produit par le groupe avec l'ingénieur Erno Laitinen, l'album met en vedette Monroe au chant principal et à l'harmonica, Steve Conte (guitares et chant), Rich Jones (guitare, chant), Karl Rockfist (batterie) et Sami Yaffa (basse/voix/guitare), ainsi que plusieurs invités, dont la légende de la guitare de Guns N' Roses, Slash, qui fait des solos et fournit des guitares supplémentaires sur la chanson titre de l'album.
Avec I Live Too Fast To Die Young, il est clair que Michael Monroe entre dans l'été avec un rugissement triomphant pour vous offrir la véritable évasion rock 'n' roll de 2022
. 
I Live Too Fast To Die Young sera disponible en CD Digipak, en vinyle rouge 12 pouces, en vinyle 12 pouces en édition limitée signée avec une illustration alternative, en téléchargement numérique, en streaming et en packs spéciaux D2C. 
 
I Live Too Fast To Die Young Track Listing:
Murder The Summer Of Love
Young Drunks & Old Alcoholics
Derelict Palace
All Fighter
Everybody's Nobody
Antisocialite
Can't Stop Falling Apart
Pagan Prayer
No Guilt
I Live Too Fast To Die Young
Dearly Departed

Band Line-Up:
Michael Monroe – lead vocals, harmonica
Steve Conte – guitars, vocals
Rich Jones – guitars, vocals
Karl Rockfist – drums
Sami Yaffa – bass, vocals, guitar
Recorded and mixed by Erno "Error" Laitinen at Inkfish Studios, Helsinki, Finland
Produced by Erno "Error" Laitinen, Michael Monroe, Rich Jones, Sammi Yafa, Steve Conte & Karl Rockfist
Mastered by Svante Forsbäck at Chartmakers
Additional recording by Bobby Nieminen at Raymond's Barn
Piano recorded at Sonic Pump Studios, recording assistant Tommi Saarinen
Slash's guitars engineered by John Ewing
Additional musicians:
Slash – guitar solo & additional guitars on "I Live Too Fast To Die Young"
Lenni-Kalle Taipale – Piano on "Antisocialite" & "Can't Stop Falling Apart"
Suvi Aalto & Astrid Nicole – Additional backing vocals on "Can't Stop Falling Apart" & "Murder The Summer Of Love"
Neil Leyton – Additional backing vocals on "Everybody's Nobody", "Murder The Summer Of Love" & "All Fighter"
Une news Replica Promotion