10 YEARS News/ Le best of « DECONSTRUCTED » le 4 mars prochain via Mascot Records/Mascot Label Group
19 titres revisités et représentatifs de leur 20 ans de carrière
Regardez la vidéo de « Wastland »
Regardez la vidéo de « The Unknown »
La liste complète des titres de Deconstructed comprend « Halos », « Lucky You », « Say Goodbye », « The Unknown », « I Wish », « Waking Up », « Patiently », « Seasons To Cycles », « Survivors », « Running In Place », « Knives », « Soma », « Fix Me », « Fault Line », « 11AM (Daydreamer) », « Planets I », « Dying Youth », « One More Day » et « Wasteland ».
Le guitariste Brian Vodinh déclare : « L'idée de DECONSTRUCTED est partie d'une simple performance acoustique. Matt et moi-même avec des guitares acoustiques, et rien de plus en termes d'instrumentation. Puis, alors que je travaillais à l'adaptation de certaines chansons à un environnement acoustique, j'ai commencé à avoir des pensées du genre : « Et si c'était joué sur un piano à la place ? ».  Puis, une fois que nous avons ouvert la porte à d'autres instrumentations, les choses sont rapidement devenues hors de contrôle, et c'est devenu l'un des projets les plus difficiles, mais aussi les plus gratifiants, que nous ayons entrepris.  DECONSTRUCTED permet à l'auditeur de découvrir cette liste de chansons à nouveau, d'une nouvelle manière. » Le chanteur Jesse Hasek ajoute : « Les versions DECONSTRUCTED de ces chansons m'ont vraiment touché sur le plan émotionnel.  C'était différent de chanter sur les orchestrations que Brian et Matt avaient créées pour ces chansons.  C'était vraiment intime, et c'était comme s'ils avaient vraiment tracé un chemin pour que ma voix puisse se poser sur ces arrangements.  J'espère que les gens pourront écouter ces versions et y trouver l'esprit que nous essayions de transmettre. »
La sortie de Deconstructed fait suite à l'album studio le plus récent du groupe, Violent Allies. Le single principal, « The Shift », a été écouté plus de 9,5 millions de fois sur Spotify, avec plus de 16 millions d'écoutes collectives sur toutes les plateformes.  Le répertoire de l'album a été écouté 15,8 millions de fois sur Spotify, tandis que les streams collectifs sur toutes les plateformes dépassent les 30 millions.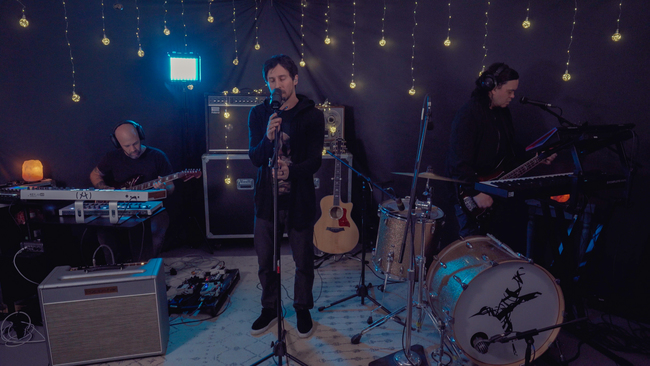 Une news Replica Promotion